Monday, November 29, 2004



jalan raya ke rumah cik kak
makanan sedap dijamah di sana
terus diajak bermain congkak
hai yang menang tak lain si hana...


# posted by izadnhana at 1:11 PM
--->


Friday, November 19, 2004

# posted by izadnhana at 1:06 AM
--->


Wednesday, November 10, 2004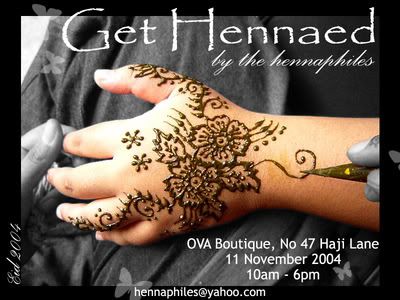 head down here to prettify your hands for eid!

all queries go to jewel or red.


# posted by izadnhana at 10:23 AM
--->


Monday, November 08, 2004


hana's a full-fledged aunty! so says the Guidebook to Auntyhood.

"thou shalt carry your nephew/niece in cuddly fashion and ensure no cries are made (by either baby or aunty) for a good ten minutes or more."




yep, that's the beaming aunt and the slumbering baby, aka adam faiq.

now hand me my cert!


# posted by izadnhana at 1:15 PM
--->


Thursday, November 04, 2004


mum wants to be called "Oma". that's dutch for granny, i learnt. but.. but... but... we're melaciwa! (ie. melayu + cina + jawa)




he's got a good pair of lungs, he has. wails when he's hungry (which is a lot) or restless. he opens his eyes wide to observe people, the curious fella.




oh, and he farts a lot too. :D


# posted by izadnhana at 1:04 PM
--->


Tuesday, November 02, 2004


the latest member to be eligible for izadnhana's Registry of Duit Collection Hari Raya...




the sis-in-law gave birth to baby adam after seventeen hours of excruciating labour. i call him Conehead for now. his head was sucked out of his mummy with a vacuum, tsk.

can't get to sniff his baby smell yet. wait till you get outta that hospital ward, ya lil tyke. aunty hana's gonna eat you up! :D


# posted by izadnhana at 1:45 PM
--->